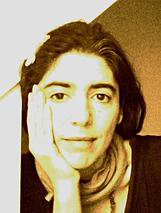 My name is Lucy. I am a Counsellor and Focusing-Oriented Therapist trained in the Person-Centred approach.
I am based in Oxford. My love of Italy and of wild places takes me for parts of the year to the Appenine mountains. I offer one-to-one therapy sessions all year round by phone and online, working with individuals who want to receive regular support over short and longer periods within a safe and confidential relationship from the comfort of your own home.
The way I bring myself to my client work is underlined by my appreciation of the importance of meeting each person as a unique individual.
Areas of special interest: Trauma. Identity. Belonging.
My approach
I aim to create a space in the context of a therapeutic relationship in which you feel safe enough to express and to explore how you experience life from the inside out.
Has something happened – recently or long ago – that you feel you haven't recovered from?
Are you feeling lost or off track in some way?
Is there something that you don't know how to fix?
Whether you are in an acute crisis or whether you have been walking a long time with some kind of emotional pain, confusion, or fear – the therapy I offer provides an opportunity to receive the kind of support that can enable you to make sense of where you stand –  and to find your own ground within whatever situation you find yourself. Understanding what is happening for you and attending together to that can facilitate the release of deeply held stress or trauma.
Engaging with your own story in this way can be very strengthening.
Working together 
Relationships have tremendous power to heal or to harm. When they are clear, full of presence, and untroubled, we can feel affirmed and supported for the person we already are. When these clear flows of communication are blocked for some reason, we can find ourselves feeling alienated by the blindness of another's unseeing gaze, or disturbed by experiencing ourselves through the distorted lens of another's judgment. Then we may find we need to seek out someone that can help us to find out or to remember who we really are. One that can help to provide us with the support we need to identify where we are stuck and to grow through and beyond our limitations.
It is my intention to be that person for you.
My roots
My background in complementary therapy followed by my training and practice in a Somatic form of Psychotherapy (Focusing-Oriented Therapy) has given me a deep respect for the relationship between the mind and the body. I listen out for this relationship across my work. In the Focusing and Focusing-Oriented Therapy sessions I invite you to join me in this special kind of listening.
I have worked from The Tom Allen Centre, the renowned Counselling service in central Glasgow and for the NHS at The Homeopathic Hospital, Glasgow.
From the comfort of your own home or office
What distinguishes the service that I offer from face to face sessions is that it can be accessed from the comfort of your own environment at a time that is convenient to you. This can be useful for people who can't easily travel to and from sessions, or for those who are interested in having a greater choice of therapists that reaches far beyond their locality.
My work is supervised in accordance with the BACP ethical framework for good practice, by supervisors who are themselves accountable to the same regulating body. They act as an extra layer of support and insight for the work we do together, and serve to support me in my commitment to providing a service that is safe, ethical, and effective.
Right from the start I felt I was in safe hands with Lucy. I never knew what would come up for me. I was repeatedly amazed by the depth and gentleness of those sessions. It felt like with every one I got an extra piece back of myself. 

Client Testimonial 
Through this process of self-discovery and what I sometimes call 'self-recovery' you may find yourself over time feeling more resilient and balanced, with the resources you need to engage authentically with any aspect of your life.