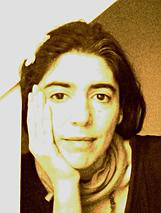 My name is  Lucy,
I am based in the UK. My love of Italy and of wild places takes me for parts of the year to the Appenine mountains.
I offer one-to-one therapy sessions all year round by phone and online, working with individuals who want to receive regular support over short and longer periods within a safe and confidential relationship from the comfort of your own home
In my work as a Counsellor and Somatically trained therapist, I specialise in working with people who experience life sensitively and deeply.
The way I bring myself to my client work is underlined by my appreciation of the importance of meeting each person as a unique individual.
Underpinning my love of this work is my deep belief that the world needs sensitive people and the gift of that sensitivity.
Areas of special interest: High sensitivity. Trauma. Identity. Belonging.
My own story
As a child, I felt profoundly alienated by mainstream ways of thinking and relating.
As a young adult, I worked with a therapist who offered me a relationship in which my sensitive nature was honoured. This was life changing and created a desire in me to learn more about the different ways that people experience themselves and the world and to share with others this experience of being met with sensitivity and respect. I went on to develop my own practice as a holistic therapist, offering therapeutic bodywork, followed by years of training to become the Counsellor and somatic therapist that I am today. I discovered that my own sensitivity allows me to listen deeply and that, the more I listen to myself, the more deeply I can hear you.
There is a healing power in being met by someone who can hold you in your wholeness…just as you are.
If you are struggling in some way with the experience of being highly sensitive I can help you.
Befriending the body
There is a special place in my work for the relationship between sensitivity and trauma and the body.
I am somatically trained, which means that I trust in the healing process that gets set in motion when we invite a deeper awareness of how your body is holding your story. All parts of you will have a valued place in our sessions. 
Over the years of exploring my own process and working with my clients, I have come to have a deeper understanding of how to support people who have this level of sensitivity. The focus in my Masters degree was on the ways in which we can become painfully sensitised and stuck in our lives.
Working With Me
If you are highly sensitive or introvert by nature, your great strength is in your ability to feel and to go deep, finding your answers Inside. The way that I work honours this inward movement and my understanding that for highly sensitive or introverted people, we need to go inside before we can come out.
Together, in one-to-one sessions with me, you will have the opportunity to explore:
What being highly sensitive means for you.
How your own sensitivity works and the special qualities in that.
What your personal triggers are.
How to unfreeze the hurt places.
How to experience fresh ways of being and fresh ways of living that more truly reflect who you are and what you personally need in order to thrive.
Through this work you will have the opportunity to become rooted in a much deeper understanding of your own story, feeling strengthened by the knowledge that you CAN trust your highly attuned responses to life.
My greatest joy arises in the depth of this work when we are able to follow the flow of your experience in such a way that a healing direction emerges and, with it, the deeper truths that underpin those places where you have believed yourself to be less than you are.
Right from the start I felt I was in safe hands with Lucy. I never knew what would come up for me. I was repeatedly amazed by the depth and gentleness of those sessions. It felt like with every one I got an extra piece back of myself. 
Client Testimonial

 
I offer an Initial 50 Minute Complimentary Consultation. 
This gives us an opportunity to meet each other and to explore what is bringing you here. Most essentially, you can use your highly attuned senses to discern whether you would feel comfortable doing this important work with me.